HALOPACK® is an innovative solution for food producers that not only ensures smooth technological transition from plastic trays but also creates new opportunities: the surface is 360° printable, it's easily recyclable and perfectly suited for automatic packing lines.
HALOPACK® is made from
renewable wood pulp.
HALOPACK® is compatible with your existing machinery and tools.
HALOPACK® extends product's' shelf life and thus reduces food waste.
HALOPACK® is good for the environment as well as your business.​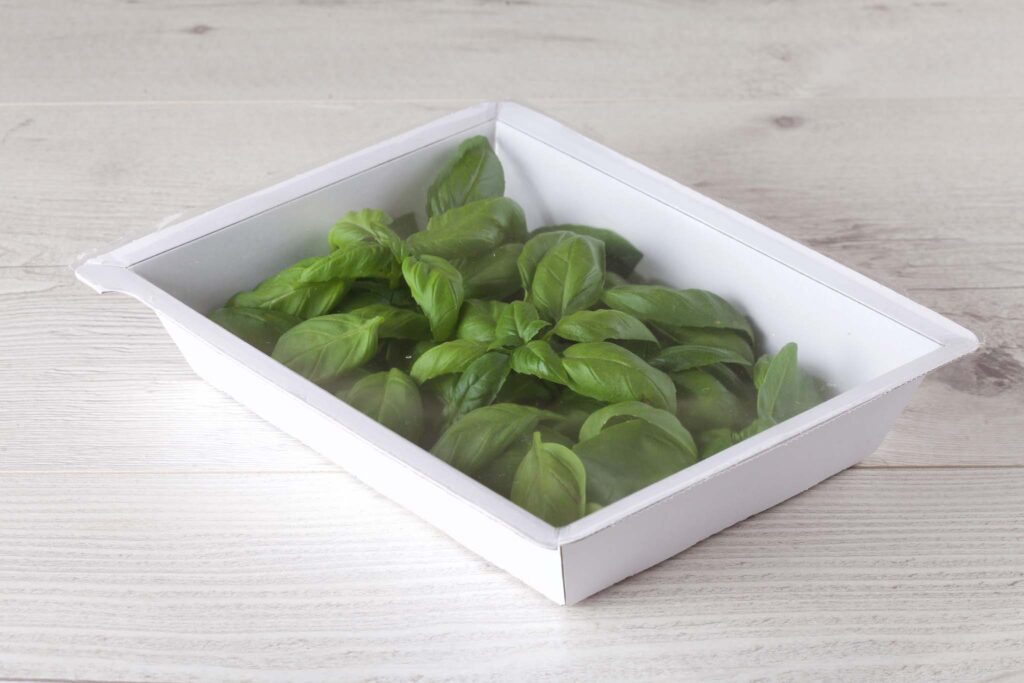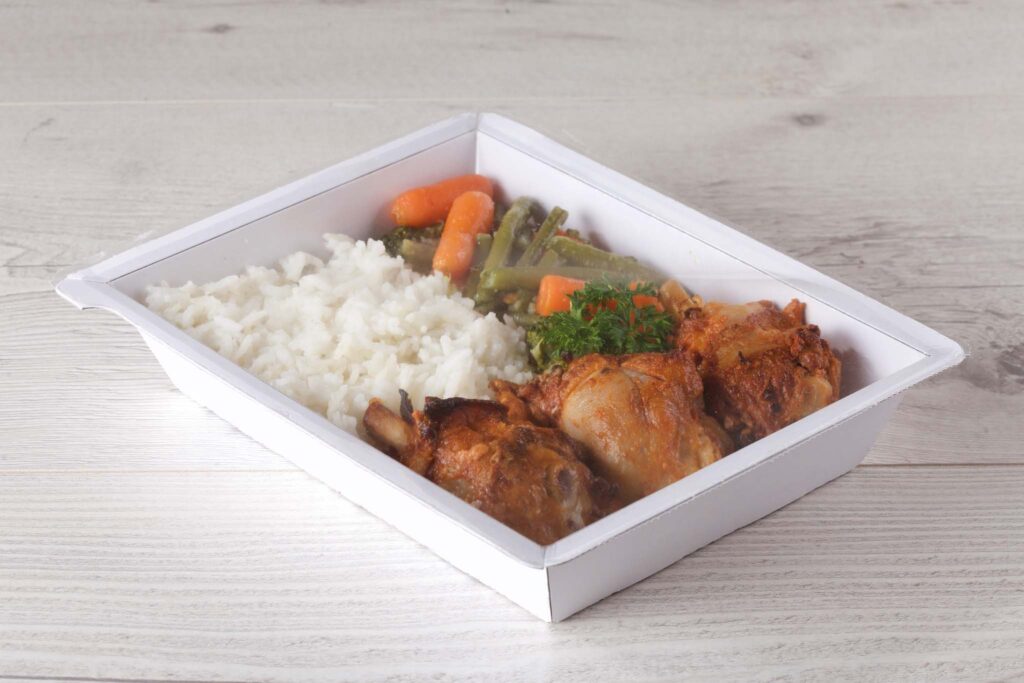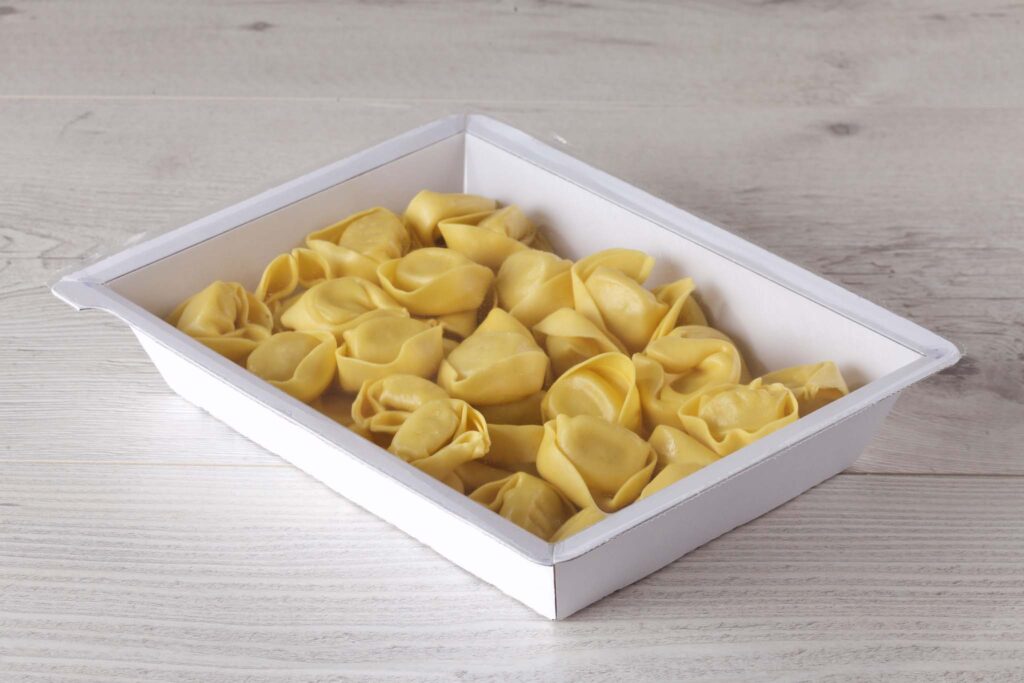 Easily peel off the inner liner of HALOPACK® and the renewable cardboard can be recycled.
The plastic liner can be easily peeled off and together with the cardoard they can be recycled in the different waste streams.
HALOPACK® is fully hermetically sealed and thus suitable for MAP.
You can boost your brand by using both sides of the package for your marketing purposes.
Eco-friendly alternatives to plastic trays are usually very expensive. Not ours! Efficient manufacturing and innovative design enable us to be competitive even against plastic trays.
HALOPACK® technology is suitable for MAP food packaging, which keeps food fresh for a longer time.
HALOPACK® packages are also suitable for heating in the oven or microwave. These packages can easily be adapted to Skinpack packaging technology, further reducing waste.
Depending on the customer's unique needs, HALOPACK® packages can be produced in various dimensions, including the production of two separate food packages. HALOPACK® packaging is suitable for printing on all sides, ensuring a representative presentation of the product on the shelf.
HALOPACK®, which has a registered design, can be produced by Vilpak, one of the leading cardboard packaging producers:
Converted solid board per year
New HALOPACK® Food Packaging Means More Sustainability and Exclusivity
Product packaging is the one thing we cannot imagine retailing without. Everything from salad to meat products is packaged. Packaging ensures protection of products from moisture, micro-organisms, light and other negative factors that can compromise the quality of food. Packaging keeps products fresh longer.
Owing to its properties plastic is the most common material used for packaging. However, we are increasingly discussing the drawbacks of plastic. The use of plastic is extensive and it takes up to a thousand years for plastic to degrade. Plastic which has not been recycled also ends up in the oceans, rivers and lakes. Furthermore, its production requires use of substantial energy resources. As a result, alternatives to plastic packaging are increasingly being explored. Paper packaging is often offered as an alternative solution. Although cardboard packaging for non-food products is usually the best alternative from the environmental perspective, this kind of packaging is not always suitable for food products. What if there was a packaging that had all the advantages of plastic packaging but was also sustainable?
Plastic Packaging vs Cardboard Packaging
Plastic packaging is used for its properties. It protects products from damage during transportation. In short, plastic is light, versatile and reliable. However, plastic packaging is not sustainable and it takes extremely long for it to degrade. Innovative HALOPACK® food packaging is both sustainable and offers the advantages of plastic packaging. VILPAK is proud to present HALOPACK® packaging made from recycled cardboard. This is a giant step towards a more sustainable new packaging standard. What is it about HALOPACK® food packaging that makes it so appreciated by customers around the world?
HALOPACK®is easy to recycle. Just separate plastic film from cardboard and dispose of it at the designated sorting points.
HALOPACK® surface can be printed on both sides. This also offers more extensive design opportunities.
HALOPACK® packaging is suitable for all known packaging equipment.
HALOPACK® food packaging can withstand temperatures up to 85 °C in the microwave and up to 175 °C in the oven. Products with this type of packaging can be stored in the refrigerator and freezer.
HALOPACK packaging weighs less than standard packaging and requires minimum resources for production. Up to 10-15% of plastic is required for production.
Compared to a plastic tray, HALOPACK® cardboard MAP tray is considerably more aesthetically appealing at the point of sale.
HALOPACK® does not require an additional cardboard sleeve, the design is printed directly on the packaging.
HALOPACK® cardboard food packaging is more resistant to water. Cardboard can also be coated with special varnish which provides additional protection against moisture.
New from VILPAK: HALOPACK® D15+60 mm Cardboard Tray for Skin Type Packing
VILPAK introduces the new HALOPACK® cardboard MAP tray, suitable for meat, fish, cheese and other food products. HALOPACK® D15x60 mm tray has more advertising space available. This is particularly important if you want your product to be eye-catching on store shelves. For your convenience, the tray can be also hung (using Euro hole). The new HALOPACK® D15x60 mm tray is recyclable and environmentally friendly since, like all HALOPACK® products, it is made from recyclable cardboard. The HALOPACK® D15+60 mm tray is also suitable for all known skin-packing machines. The unique and patented production process ensures that the packaging has a minimum impact on the environment and has the added advantage of no adhesives used in its production. The packaging is made solely from film and cardboard. The skin type film is suitable for direct contact with food and is top sealable. The size of the tray is 258x175x013 mm and the internal dimensions of the product are 180x145x013 mm.
Fill out the request form and we will contact you soon.